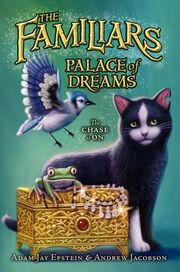 Palace of Dreams is the fourth and currently final book of the series.
Description
Edit
The heroes of Vastia are back in action.
Peace has finally returned to Vastia. The familiars Aldwyn, Skylar, and Gilbert have defeated the evil Paksahara, and the Council is throwing Queen Loranella a birthday party to celebrate. But when the queen falls victim to a terrible curse, the familiars find themselves the prime suspects.
Narrowly escaping the palace dungeons, Aldwyn, Skylar, and Gilbert set out on a quest to prove their innocence and find a cure for the queen. Their journey will reunite them with old friends and even older enemies, and it will take them from the far fields of Vastia to the magical Dreamworld. But nothing can prepare them for the puzzles and perils.
Characters
Edit
Mentioned characters
Edit
Creatures
Edit
Locations
Edit